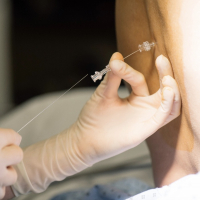 Regional anaesthesia is the term given to a variety of techniques where an anaesthetist injects local anaesthetic around peripheral nerves or the spinal cord to create temporary paraesthesia or paralysis in that part of the body. These techniques can be so effective that they can allow surgery in awake patients, and they provide excellent analgesia allowing for the avoidance of strong opiates and anaesthetic options for patients in whom general anaesthesia may be particularly hazardous.
The COVID-19 pandemic has created unique challenges for anaesthesia.  General anaesthesia and manipulation of the airway is an aerosol generating procedure, of which the subsequent aerosolization can potentially infect healthcare workers. Another aspect of the COVID-19 pandemic is the unprecedented demand for anaesthetic drugs for use in critical care, which has reduced the supply of drugs for general anaesthesia. The Royal College of Anaesthetists in the UK have suggested regional anaesthesia as a solution to these problems in their urgent guidance on emergency surgery for procedures such as hip fractures and in guidance to limit drug use in theatre. Therefore the safe and evidence-based practice of regional anaesthesia is increasingly important to maintain reliable anaesthetic services and hopefully limit exposure of healthcare workers to COVID-19.
This Special Collection presents the available evidence from Cochrane Reviews produced by Cochrane Anaesthesia and aims to better inform these debates and support decision-making when planning regional anaesthesia.
Link to this Cochrane Special Collection: https://www.cochranelibrary.com/collections/doi/SC000041/full
Acknowledgements
This Special Collection was developed by Michael McEvoy and Muataz Amare (Dissemination Fellows, Cochrane Anaesthesia), Andrew Smith (Co-ordinating Editor, Cochrane Anaesthesia), Janne Vendt (Information Specialist, Cochrane Anaesthesia) and Teo Quay (Managing Editor, Cochrane Emergency and Critical Care, and Cochrane Anaesthesia), working with Monaz Mehta (Editor, Cochrane Editorial & Methods Department).