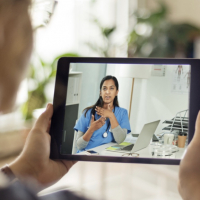 This Special Collection is one of a series of collections on COVID-19, and it will be regularly updated.
The aim of this collection is to ensure immediate access to systematic reviews most directly relevant to remote health care through telehealth. The measures adopted internationally to curb the spread of COVID-19 have led to significant changes in how health care is accessed and provided. As face-to-face consultations between healthcare workers and patients pose a potential risk to both parties, remote care and telehealth offer alternatives.
This Special Collection includes Cochrane Reviews that address using telehealth to support clinical management of various conditions, including asthma, diabetes, cardiovascular disease, dementia, reproductive health, and skin cancer. It includes reviews of using telehealth to provide carer and parent support as well as empowering patient self-management of their long-term conditions. For reviews related to quitting smoking during the pandemic, you can refer to Coronavirus (COVID-19): effective options for quitting smoking during the pandemic.
Acknowledgements
This Special Collection was developed by Ciara Gleeson (Evidence Synthesis Ireland Fellow/Clinical Specialist Physiotherapist (respiratory), Ireland), Dr Maureen Kelly (Discipline of General Practice, NUI Galway, Ireland) working with Toby Lasserson (Deputy Editor in Chief), Robin Featherstone (Information Specialist), and Monaz Mehta (Editor) from the Cochrane Editorial & Methods Department, and Declan Devane (Cochrane Ireland). Colleagues from Cochrane Acute and Emergency Care, Cochrane Circulation and Breathing, Cochrane Mental Health and Neuroscience, and Cochrane Public Health and Health Systems also provided input on the selection of reviews for this Special Collection.