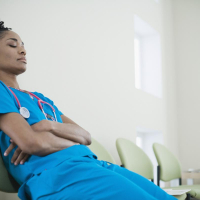 This Special Collection is one of a series of collections on COVID-19, and it will be updated if additional reviews are published. 
Many healthcare workers are at the front line of the COVID-19 pandemic, delivering emergency and critical care, while others continue to deliver the broader services of the health system in hospitals, clinics, offices, communities, and homes. Working under difficult and stressful circumstances that are likely to continue for some time, exacerbates existing risk factors such as occupational stress and shift work. Supporting the wellbeing of healthcare workers is crucial to sustaining our health systems during and beyond the current crisis.
This Special Collection brings together Cochrane evidence on interventions that may help support the wellbeing of the healthcare workforce and reducing occupational stress.
These reviews have been produced Cochrane Review Groups in three Networks: Cochrane Mental Health and Neuroscience; Cochrane Musculoskeletal, Oral, Skin and Sensory; and Cochrane Public Health and Health Systems. Some reviews in this collection have associated Cochrane Clinical Answers.
Please note that the reviews included in this Special Collection summarize evidence, and their inclusion does not mean that the interventions reviewed have been shown to be effective.
Updated 28 July 2020: added updated Cochrane Clinical Answer for review 'Work‐break schedules for preventing musculoskeletal symptoms and disorders in healthy workers'
Acknowledgements
This Special Collection was developed by Miranda Cumpston (Editor, Cochrane Public Health), working with Monaz Mehta (Editor, Cochrane Editorial and Methods Department) and Katherine Jones (NIHR Network Support Fellow, Cochrane Mental Health and Neuroscience). Colleagues from Cochrane Developmental, Psychosocial and Learning Problems, Cochrane Public Health, Cochrane Skin, and Cochrane Injuries, and Alex Pollock and Margaret Maxwell of Glasgow Caledonian University provided input on the selection of reviews.